These are three sketches I completed with a long hair filbert brush at the Cincinnati Art Club. The filbert brush was a departure from the pallet knives I've used over the last few years. Pallet knives taught me to simplify and match the color I wanted. I attempted to use the same technique with the brush, and I was pleased with the results.
The first piece, Claire, is an 8 x 10 inch painting on canvas. The softness of the brush's bristles make the edges of the painting less clear, especially in comparison to the lines created by the pallet knife. Nonetheless, I think there are good separations of the painted model, which adds great form to the image.
The second piece, Lost in an Empty Room, is an 11 x 14 inch oil painting on canvas. The disparity of the lonely, half-naked model in an empty room intrigued me. The light and exit through the door is clear due to the use of the filbert brush. The hard beveling form of her face dramatizes the image, emphasizing her age and despair.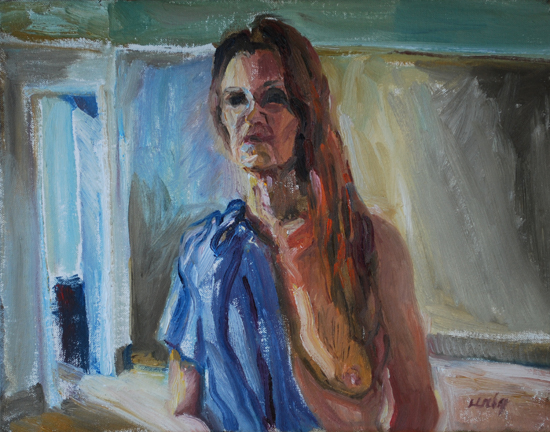 The third piece, Construction Man, is an 11 x 14 inch oil painting on canvas. The loose brushwork and softness of the color changes add richness to the painting, especially in the forward forearm. The manner in which I painted this gives the viewer a strong spatial contrast. Also, the loose brushwork and color choice of the paint on the construction worker's apron helps arrange the spatial order of the piece. Again, the strong beveling of the face's form adds focus to it, even though it's loosely indicated.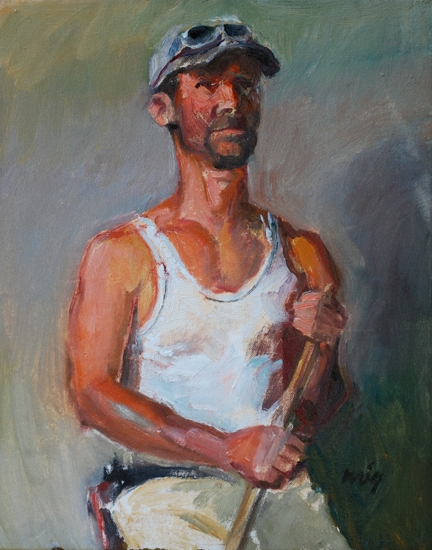 To view more paintings:
Recent work: http://www.darylurig.com/2010-paintings.aspx
Blog:  http://DarylUrig.com/blog
Website: http://DarylUrig.com
More on Daryl Urig:
Interview & Bio: http://www.darylurig.com/about-daryl-urig.aspx
Purchase:
Store: http://www.darylurig.com/store.html
Price: Contact: Robyn@DarylUrig.com
American Oil Painter Daryl Urig is a member of The Portrait Society of America, Oil Painters of America and Cincinnati Art Club. He has taught at the University of Cincinnati for over 8 years and is president of Total Media Source Inc.
View his Exhibit and Awards by clicking here.

Subscribe to Daryl Urig's "The Adventure of an American Oil Painter" Blog by Email