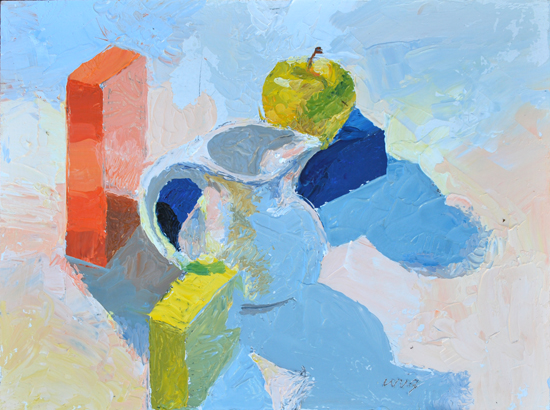 It is fun to paint. But wouldn't it be fun to see and paint the correct color?
That is what this group of fine painters in Sun City South Carolina discovered at the Color and Contemporary Still Life Workshop this past week. Using seeing techniques I  showed students how to see color where they where unable to see color before. It takes some time. You could her a student say "where did that color come from, it was not there before". That was the moment seeing began for that painter.
Object color in the light, on the shadow side,  reflected color, color where you never saw color. How to best capture this in paint on your canvas. It effects every painting you will ever paint in studio or plein air.
Janice above wanted something that would change her painting and believes she found it in this workshop.
Testimonials:
You only think you are painting if you haven't taken the time to study color! Color and Contemporary Still Life is must do workshop if you are interested in how color will improve your work.
– Rose Nigro, Bluffton SC
Daryl knows how to stretch the artist to achieve while maintaining a positive and productive atmosphere.
– Janice Mathes, Bluffton SC
Plein Air Group Starting
Sun City Painters please see Rose Nigro if interested in joining her group of plein air painters that meets on Wednesday mornings.
Purchase paintings here


Information on Workshops & Locations
© 2012 Daryl Urig