Drawing with conceived forms and using the classical lighting of the masters is so freeing when it comes to drawing or painting. Once you understand these few basic conceived forms and the lighting on them you can render or paint almost any form with your own direction and perception of lighting.
I used this new conception of forms and lighting in the painting below to help with the rendering of the anatomy of the figure.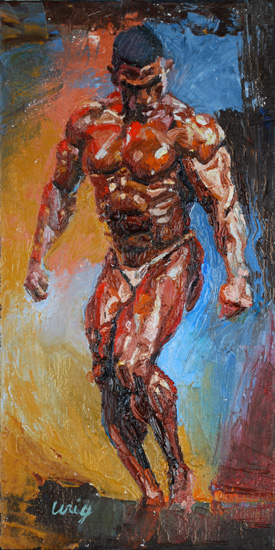 To help explain this concept further I have created a video on my website that goes in more depth with some visual examples and explanations. You may view the Video for Free here. Or if you like it and want a higher resolution video, you may purchase it online.
Let me know how it changes your painting, it has really helped mine.
Figurative oil painter Daryl Urig wins Arnold Choice Award from actor and Governor of California, Arnold Schwarzenegger at the Arnold Sports Festival, Art at the Arnold on March 7th 2010. He received a Gold Medallion as recognition from Arnold as his preferred personal choice in painting from the juried event. Visit this post
To view more paintings
Recent work: http://www.darylurig.com/2010-paintings.aspx
Blog:  http://DarylUrig.com/blog
Website: http://DarylUrig.com
Purchase:
Store: http://www.darylurig.com/store.html
Price: Contact: Robyn@DarylUrig.com
American Oil Painter Daryl Urig is a member of The Portrait Society of America, Oil Painters of America and Cincinnati Art Club. He has taught at the University of Cincinnati for over 8 years and is president of Total Media Source Inc.
View his Exhibit and Awards by clicking here.

Subscribe to Daryl Urig's "The Adventure of an American Oil Painter" Blog by Email