A delightful and artistically informative event with nationally recognized American Painter Daryl Urig plein-air painting a southern home on a river street.  Passerbyers and artists in his workshop alike engage Urig with questions about his art and painting with a painting knife.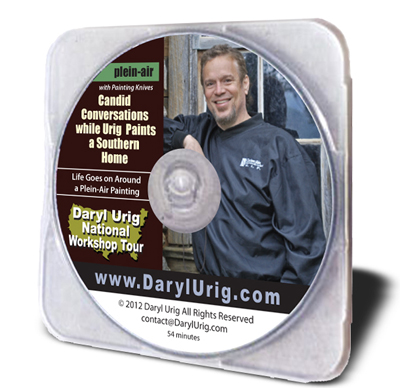 You will learn much about his unique technique of using painting knives and how he has formulated it into a purposeful portrayal of his talents and himself in his paintings.  Not excluding many of Urig's penetrating thoughts, convictions and subtle, lively humor in a joyful painting event.
If you want to get a head start on painting with painting knives, this DVD is for you.
Purchase your own copy today, $29 plus $2 shipping and handling in the USA.
Information on Workshops & Locations
YouTube Video:
Self-Portrait: http://youtu.be/5DDJ0TwPGz0
Painting Knives: http://youtu.be/WZOwpcxitc8

© 2012 Daryl Urig