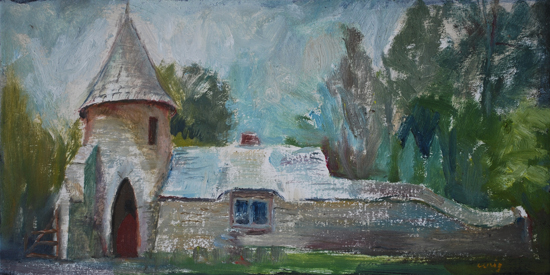 Oil on Canvas – 10 x 20 inches
This depicts a scenic view in Indian Hill, Ohio. For me, the gatekeeper's home is nostalgic of days of yore. It also compliments the beautiful Marge Schott mansion that lies far beyond the gate.
The long profile of the gatekeeper's home was perfect for the long canvas I had brought with me. While quickly rendering the painting on the canvas, I tried to capture the stone against the trees and the silhouette of the sky on the structure. After readjusting my drawing, I layered in multi-colored strokes to capture the stones' ever-changing colors, so I wouldn't have to paint each stone individually. By accenting points like the tower, the roof cone, the door, the tall and narrow wall and the shale roof edge of the building, I provided form for the piece.
© 2010 Daryl Urig, All Rights Reserved
To view more paintings:
Recent work: http://www.darylurig.com/2010-paintings.aspx
Blog:  http://DarylUrig.com/blog
Website: http://DarylUrig.com
Enlist Urig for your next Historic Event Painting: http://www.darylurig.com/historic-event-oil-painting.aspx
More on Daryl Urig:
Interview & Bio: http://www.darylurig.com/about-daryl-urig.aspx
Purchase:
Price: Contact: Robyn@DarylUrig.com
American Oil Painter Daryl Urig is a member of The Portrait Society of America, Oil Painters of America and Cincinnati Art Club. He has taught at the University of Cincinnati for over 8 years and is president of Total Media Source Inc.
View his Exhibit and Awards by clicking here.

Subscribe to Daryl Urig's "The Adventure of an American Oil Painter" Blog by Email