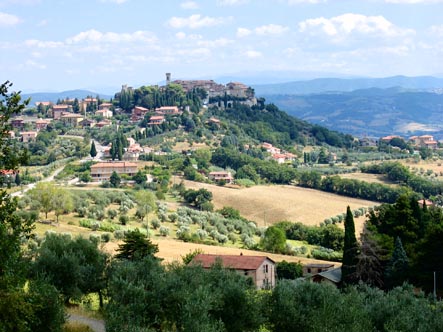 October 9 – 23, 2014
ITALY – PLEIN AIR LANDSCAPE & STUDIO
WITH DARYL URIG
Umbrian region of Central Italy
Call Tracy to Sign Up: 1-855-476-6482
Questions? Please email us:
schoolinfo@laromita.org
Painting, culinary, and
art workshops in Italy.
La Romita strada della Romita,
24 Terni Italia, 05100
Love of painting has always been my passion since I was young boy. I want to share my appetite for painting with you and help you express your art in Italy. From delicious food, ancient towns, rolling landscapes, to vineyards by an astounding sea.
In a quiet area of Italy students will enjoy gaining a deeper understanding of plein air and studio painting. We will understand a practical plan for capturing changing light in outdoor painting studies. Together with demonstrations and one on one mentoring with students we will cover dynamic compositions, mixing rich harmonious colors, and capturing light with lively paint. You will be amazed at the difference it will make in your paintings.
This artist retreat will emphasize drawing and painting with a painting knife or brush. With friendly guidance and critiques to guide painters in developing their proficiency and painting style. While enjoying day trips and making new friends with other dedicated painters of different experience levels to making memories that will last a lifetime.
The price, excluding airfare, (We pick you up and drop you off at the Rome airport [Fiumicino]), is $3790 for two weeks… and includes meals (except for a few days on longer trips when you may like to sample local restaurant lunches), wine, and lodging and talks and slide presentations on the arts and history of the area. On some evenings we'll find concerts or opera to attend or maybe just sample the local nightlife.
Single room is $150 extra per week, first come first serve.
Bring a Friend and save $200. Paint, photograph, site see or sign up for 2 day Italian Cooking Class. You don't have to be a painter to join us!
Reserve your spot early, this opportunity will surely fill up quickly.
Umbrian chefs preparing fresh local delicacies…and also the vino rosso, "which makes you strong"…(according to one of our local staff members.) Special diets may be considered.
These are links to some of the towns we visit:
Less than an hour away:
www.bellaumbria.net/Bevagna/home_eng.htm
www.bellaumbria.net/Ferentillo/home_eng.htm
www.bellaumbria.net/Foligno/home_eng.htm
www.bellaumbria.net/Montefalco/home_eng.htm
www.bellaumbria.net/Scheggino/home_eng.htm
www.bellaumbria.net/Spello/home_eng.htm
www.bellaumbria.net/Todi/home_eng.htm
www.bellaumbria.net/Trevi/home_eng.htm
www.italyheaven.co.uk/bagnaia.html
www.bellaumbria.net/Otricoli/home_eng.htm
about an hour away:
www.bellaumbria.net/Assisi/home_eng.htm
www.bellaumbria.net/Orvieto/home_eng.htm
hwww.bellaumbria.net/Perugia/home_eng.htm
www.bellaumbria.net/Assisi/home_eng.htm
www.villadestetivoli.info/storiae.htm
(and the city by the sea – about an hour and a half)
www.tarquinia.net/citta/tarquinia_dei_musei_e.asp
in our neighborhood:
www.bellaumbria.net/Spoleto/home_eng.htm
www.bellaumbria.net/Arrone/home_eng.htm
www.bellaumbria.net/Narni/home_eng.htm
www.bellaumbria.net/San_Gemini/home_eng.htm
www.bellaumbria.net/Stroncone/home_eng.htm
www.bellaumbria.net/Terni/home_eng.htm