This past week I had the good fortune of being blessed by a group of energetic and very hungry Massachusetts painters, through the Creative Arts Center of Chatham MA. They had a deep craving for positive concepts in painting. And this is what I gave them. Practical approaches that will help them grow as young painters. Much of what was taught and discussed they will be able to draw from for many years to come and more importantly to the painters, something to help them grow right now. Something they can sink their teeth into and see some actionable results.
Without a question I could see all of these painters grow this week in open air or plein air field studies. Paintings you could line up on a wall and say, I started with this painting and my last days panting is here, I can see the progress!
Open air field studies have many inconveniences to any painter. You may have to carry your supplies a slight or longer distance. The sun and necessity for water, bug spray and sun screen. An umbrella for an easels, not to mention all of your other supplies. Many mentioned in this workshop that using M. Graham Walnut oil allowed them freedoms where turpentine, Gamsol or Turpenoid had encumbered them before. And lastly the need for a bathroom, after an early morning coffee so they could catch the early morning sun at 6:30 am.
Field studies are usually captured in about 1 hour or slightly longer. The sun moves and changes everything. Keeping things simple and to the point is very beneficial to the plein air painter.
All of these New England painters managed all that was required in stride.
Thank you to those who helped me find better places to paint, opening their home to the group and other thoughtful considerations that make it a joy to be with you and even your spouses.
Testimonial:
Daryl, Thank you for a terrific workshop. I learned a lot and enjoyed each day with all the painters. You have a very nice way about you and generously share what you know giving good tips as well as good life philosophy. Thanks again. Hope to catch you when you come back this way.
– Barbara Harris, Chatham, Cape Cod, MA
Freedom from brush cleaning, Turpenoid etc., was an eye opener. I also did like the clarity of color laid down with a knife and the simplicity of line it promotes. It is the most direct form of painting I have ever experienced.
– Dede Aronian, Yorktown, NY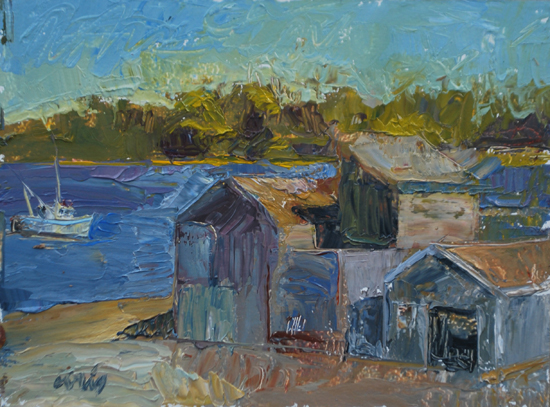 Information on Workshops & Locations
© 2012 Daryl Urig