Thoughts before the session:
Painting a live model outside has much to offer the oil painter. Unfortunately, most artists (even some of the original Impressionists) paint their live models inside, and only move outdoors to paint their background.
Fortunately, I like to paint live models in my garden. Painting a live model in the garden provides both natural light and colors. Painting a whole piece outdoors teaches an artist to capture various moments in time in order to create a cohesive design on their canvas.
Some of the potential drawbacks of the session could be rapidly changing light, difficult weather conditions, or storms. Painting moving light, however, adds something interesting to a painting. Even in indoor settings, a model's movement changes the position of their garments, altering their pose and affecting the lighting.
Painting outdoors, the artist needs to be more aware of time and their surroundings. Artists only have a certain amount of time for each sitting. Due to this time restriction, artists must complete their pieces over an extended period of time. However, a day or week can change subtle parts of the landscape, making it difficult to paint a uniform image. However, I think the changing landscape is beneficial, as it provides the artist with more choices to make for their piece.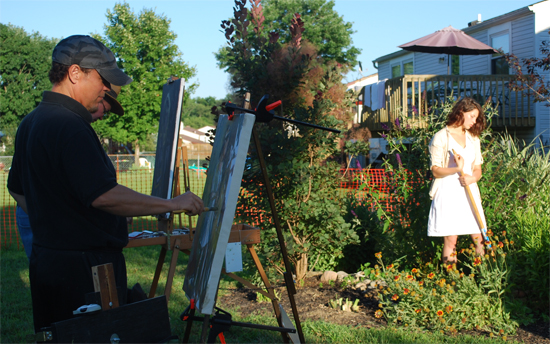 Thoughts after the first the painting session:
Before the session, I was nervous the model wouldn't show. But that proved to be needless worry, as she showed up and the session commenced on time.
Everyone started their painting differently. Some worked in one tone, others from top to bottom, and myself in a general color exploration.
We were all impressed with how our positioning for the model worked well, as over the three-hours, the lighting on the model didn't change. We only encountered subtle changes, as the light moved, providing a variety of choices for setting the model off from the background.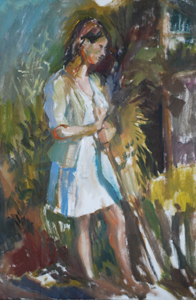 My main concern was placing the model in a position on the canvas that would allow me to heighten the composition and further develop the piece. As usual, I spent much of my session, focusing on the colors of the painting. I tried to place each stroke as a gesture stroke, loosely laying soft colors next to each other, while remaining aware of the lights and darks needed to bring the painting together.
Overall, it was an invigorating session, especially as I was in the company of committed painters. Most importantly, new friends were made and everyone appreciated the garden!
Daryl Urig's Paintings from the Garden with a Live Model – Wednesday Evenings Open Painting
What to Bring:
Easel and painting supplies
Drop cloth – to protect my patio
Umbrella – to shade your canvas and pallet for consistent color matching
Large canvas – to complete in 2 paint sessions
Small canvas – to do a quick color study and work out composition
$15 payment is due on arrival to participate in paint session
Time: Wednesday Evening from 5:30 pm – 8:30 pm
Starts June 30th
Please come 15 minutes early to set up. Stay after to share a glass of wine, your paint experiences and dreams. Water will also be provided.
Confirmation: Please come to as many classes as your schedule will allow. E-mail prior to each class to reserve your spot.
Location:
Daryl Urig's Studio
654 Ridgeview Drive
Harrison OH 45030
USA
513-708-7981
contact@DarylUrig.com
Notes: This is a non-instructional class. When you attend a class, please be courteous to the other painters, talk quietly, and be open to and ready to provide constructive criticism to your fellow painters. You must provide your own supplies, meals and transportation.
To view more paintings:
Recent work: http://www.darylurig.com/2010-paintings.aspx
Blog:  http://DarylUrig.com/blog
Website: http://DarylUrig.com
More on Daryl Urig:
Interview & Bio: http://www.darylurig.com/about-daryl-urig.aspx
Purchase:
Store: http://www.darylurig.com/store.html
Price: Contact: Robyn@DarylUrig.com
American Oil Painter Daryl Urig is a member of The Portrait Society of America, Oil Painters of America and Cincinnati Art Club. He has taught at the University of Cincinnati for over 8 years and is president of Total Media Source Inc.
View his Exhibit and Awards by clicking here.

Subscribe to Daryl Urig's "The Adventure of an American Oil Painter" Blog by Email