I enjoyed my experience at the New Harmony IN 2013 Plein Paint Out. I met a number of colorful figures that visually demanded me to paint them. These gentleman where very interesting to talk with and rich at heart and experiences in life. The first day I had the pleasure of painting Gerry Barker a bullwhacker or wagoner. Had what I would complete pioneer campsite with wagon and bulls. The second day was cold, I had the pleasure to come inside and listen to Howie play his banjo and guitar as I painted him (see below).
Howie Clark (HClark@TwinRocker.com), shown in my painting and soon to join where, Brian Lappin, Rick Wilson & C.W. Mundy. I just sat next to C.W. and listened in amazement to this impromptu group of talented players. I enjoy live folk music.
There where many sites to see in this charming small town and people came from all around to see the painters work, some as far as Chicago. They had a fascinating visitor center where I met a cattle man and his wife and all of their pioneer camp supplies (see painting). I would like to paint a larger painting from this plein air study.
There was plenty of sites for the plein air painters to choose from. I enjoyed meeting new acquaintances and talking with old ones. Interaction and artistic feedback where appreciated. One very nice young woman tried to help me name my painting classification or movement as fre·net·ic, wich could mean wildly excited or active; frantic; frenzied. Or fast and energetic in a rather wild and uncontrolled way. I like to think i am controlling it some. Please leave your comment.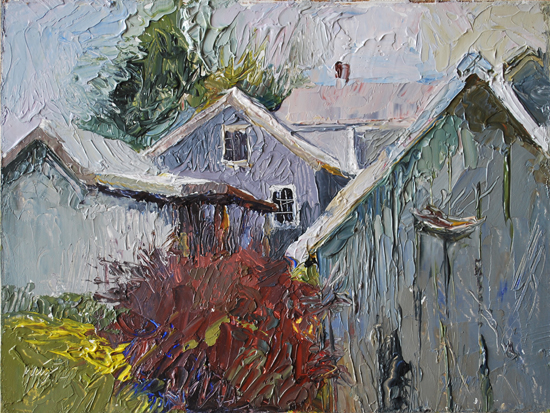 © 2013 Daryl Urig