Every time I come to California it is like coming home. This Midwest boy enjoys the Californians even if they do come from as far away as Washington, Oregon, Canada and of course California for this workshop. It is just an extra fun time of exuberant art, life as an artist should be and sunny weather.
Urig demonstrating self-portraiture based on observation and study
We packed so many new concepts into this workshop and came away with exceptional art and understanding of the human features of the face. It will impact a lifetime of painting. It is a process I personally created to help artist's conceive three dimensionally what is important about the face. It came out of years of personal frustration with what I consider bad teaching of the human head. I believe my new approach is clearer and easier to understand.
As an instructor I love Carole's written testimony: Daryl makes art seem possible & attainable. For the fun of it I have included some video testimonials so you can see for yourself. Enjoy.

Urig Self-portrait, 9x 12 inches, oil on panel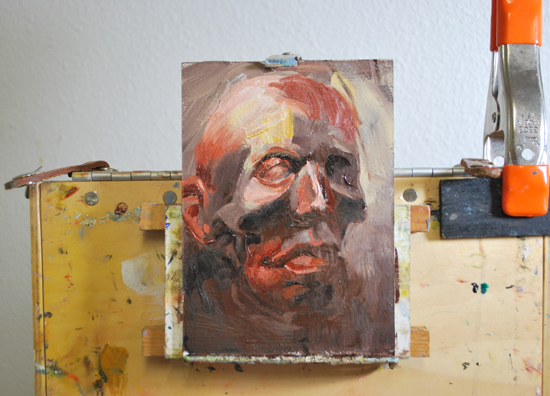 Adding Muscle to Bone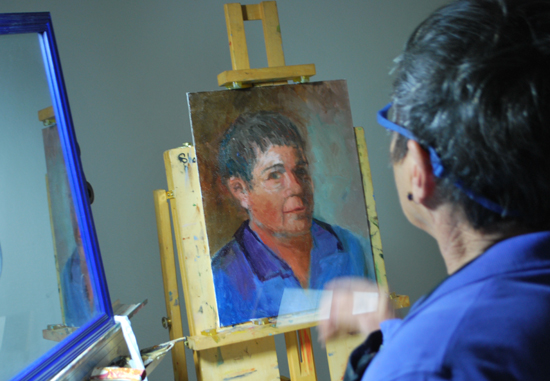 Sharon Painting self Portrait

Skull Study

Patti Painting self Portrait
—
Beauty – the adjustment of all parts proportionately so that one cannot add or subtract or change without impairing the harmony of the whole. – Leon Battista Alberti
Purchase paintings here


Information on Workshops & Locations
© 2012 Daryl Urig