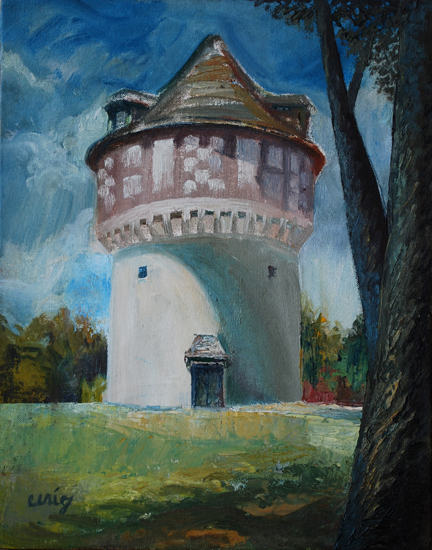 The Old Water Tower on 5355 Miami Road in the Village of Indian Hill, Ohio
Oil on Canvas, 11 x 14 inches
It was only when I started painting that I realized the large size of the old water tower in Indian Hill. In addition to that, the light at the time of my plein air session lit up both the top of the tower and the ground beneath it. Although this created a beautiful effect, it made capturing the image more difficult. I think I ultimately achieved the lighting effect and showed the grand nature of the tower in my piece, but not without some alterations of my original rendering.
While painting outside, I especially enjoyed completing the top section and cloud portions of the piece. But upon arriving at the studio with my initial rendering, I noticed that the bottom of the painting did not fit with the top section. After noticing this, I repainted the bottom portion based on both my memory of my plein air session and the photograph I took of the location.
Like most of my paintings, I learned a lot from this piece.
© 2010 Daryl Urig, All Rights Reserved
To view more paintings:
Recent work: http://www.darylurig.com/2010-paintings.aspx
Blog:  http://DarylUrig.com/blog
Website: http://DarylUrig.com
Enlist Urig for your next Historic Event Painting: http://www.darylurig.com/historic-event-oil-painting.aspx
More on Daryl Urig:
Interview & Bio: http://www.darylurig.com/about-daryl-urig.aspx
Purchase:
Store: http://www.darylurig.com/store.html
Price: Contact: Robyn@DarylUrig.com
American Oil Painter Daryl Urig is a member of The Portrait Society of America, Oil Painters of America and Cincinnati Art Club. He has taught at the University of Cincinnati for over 8 years and is president of Total Media Source Inc.
View his Exhibit and Awards by clicking here.

Subscribe to Daryl Urig's "The Adventure of an American Oil Painter" Blog by Email