The American Queen Steamboat docked this past weekend for a picturesque time period presentation on the Ohio River. What a joy to paint. I do love boats and water. No one would have thought that this majestic Queen, the largest steamboat ever built, would have a broken paddlewheel axil shaft that would delay its journey.
Two days filled with more than I could paint, trains, old town charm, paddlewheel steamboat, and a ferry boat that has been in service since 1798.
The peoples choice award was a four-way tie. I was fortunate to be selected by this endearing community to share Best(s) of Show.
Some may be aware that Augusta Kentucky is high school home of George Clooney.
Please enjoy my paintings and pictures from the weekend. You can see how close my easel was to that train track.  A good time to step away from the easel and view my painting from afar.
Home Town RR, 9 x 12, oil on panel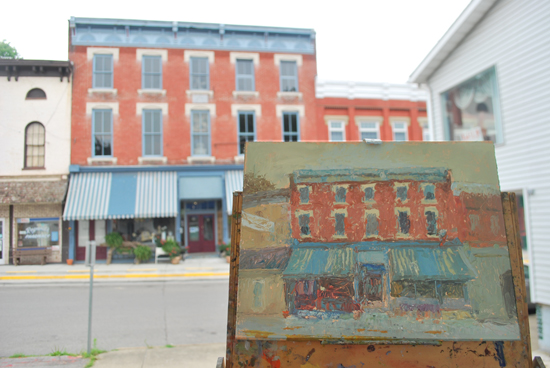 All paintings are for sale. Please contact me by email to purchase at:  Contact@DarylUrig.com
—
I am planning a workshop in Umbria (Italy) this October. I have 5 spaces left, please  don't miss out on this amazing experience. It is about $3000 per person, plus airfare. I understand this is very reasonable for a two-week all-inclusive with meals, wine, shuttle to fro airport, sight seeing in one of Italy's untouched areas. Original architecture dating back to 1300's, what a wonderful place to paint old Italian villages, shops and hillsides.
Bring a friend and save $200. You may participate in a two day Italian cooking class, non stop sightseeing, you don't need to be a painter to enjoy this. If you are, then I will be instructing a painting workshop in the studio and plein air. This will be the memory of a lifetime.  Hope to see you in Italy!
Call Tracy to Sign Up: 1-855-476-6482
Questions? Please email us: schoolinfo@laromita.org