Home

Updated Online Gallery - Click Here
I feel blessed, humbled and challenged each day to be a part of the larger legacy of art that each generation strives to add to in life. I cannot take credit for any of it. Just abide in its flow and the passion given me.
My paintings are not a product or object that can be owned indefinitely. They must be shared. It is a glimpse of my intangible artistic spirit captured in paint. I give it freely away so I may be filled with more the next day or the emotions and visuals will haunt me. My spirit cryogenically preserved for all time with paint on panel.
Not limited to any one subject matter or style. My direction is just an outpouring of what is going on in my life. My conflicts, fears, reaching for more and better, momentary snapshots of idealistic living or about my spirit and mind, cohabitating, wondering who will be here for eternity?
As a student of the arts I train and learn by the challenges I face. With Healthy Walnut Oil Paints, I lavish on my panel with a brush, painting knife or finger. I explore the image that reside between me and the panel. Sometimes painted with my mind and self-taught learning and other times a more intuitive nature takes over. Paint expresses life.
Images captured from everyday life. A posed setting or a picturesque landscape that captures my attention. To purely things out of my imagination that ask to be portrayed, because they cannot be expressed in words and would go unstated.
Respond as you wish, hopefully tugged or shocked from your inner most being. I walk each day to my own tempo, guarded by the Master Painters and Artists that lived before me. Passion waving me onward as abstract marks take on familiar and unfamiliar representation. Like a storybook of my life, better than any photograph, I can remember each emotion painted with each stroke. Now released from my spirit with many more to come. The void continually filled as I give it all away.

Entrepreneur /Graphic Designer / Academic Coordiantor at Universirty of Cincinnati/ National Workshop Tour on Fine Arts Oil Painting / Author of Three Books / Investment Advisior

Original oil paintings are available at gallery and online.
The Gallery is open to public by appontment.
Please call or text 513-708-7981
Major credit cards accepted
Please check out workshop and teaching schedule. READ MORE...


Opening Up New Avenues for Painters
The Creative Underground Broadcast Channel presents new thinking about the art of painting, with live interviews, discussions, mentoring, workshops, and events. Read More Here

"Tips for a Contemporary Painter" is my latest book that answers tough questions about the art of painting. C.W.Mundy says, "It's like an encyclopedia in understanding the nature of painting with very useful tips! Very easy to read with valuable insight!".
Urig Awarded the Frank Duveneck Award -Read More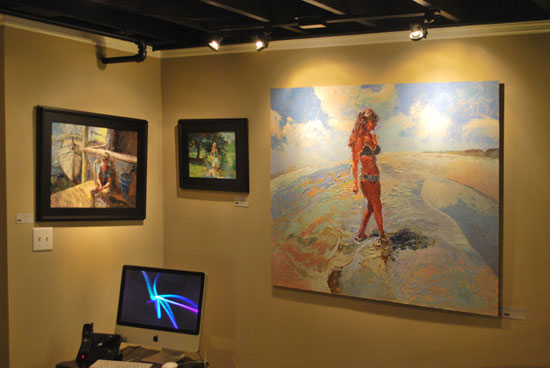 Creative Underground - Gallery
430 Ray Norrish Drive,
Cincinnati OH

Conveniently Just off I-275 on Route 4 in the Yorkhaven Professional Plaza
Call/Text: 513-708-7981
or Email: Contact@DarylUrig.com

Is open to public by appointment.
See a video introduction by Gallery Director, Robert Little
View select paintings in Gallery