I photographed this boat at the same location as the Bubba Shrimp Co. was in the Forrest Gump movie, in South Carolina on my trip to the Carolinas last year. I am returning this month, in March 2012 to present workshops down the coast on my National Tour.
This Nautical painting was completed as a demo for the Queen City Art Club at the Manor House in Cincinnati Ohio at the end of February 2012. Creating subtle color and rich textures using entirely a painting knife.
The boats and the water are a deer subject matter to me since I grew up on the Great Lakes.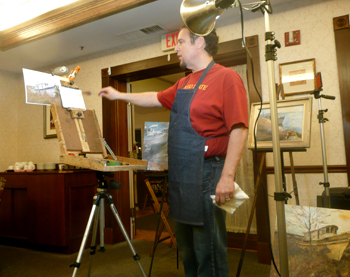 I enjoyed the company, comments and interest of the club. Many enjoyed the fact that I use M. Graham's Walnut Oil and that I do not use any turpentine or Gamsol with my oil paints. The glisten of walnut oil and the colors I can achieve are prized.
The Walnut oil can be used as a medium and brush cleaner and I personally feel this is healthier as many students have mentioned being able to paint with oils and not gaining headaches that the usually accompany turpentine cleaners.
6 x 8 inch, oil on canvas panel – purchase painting here


Information on Workshops & Locations
© 2012 Daryl Urig