I was fortunate to stay 2 days in Maine. The vistas, the cool weather, the roughness of the elements are all here to stay. You cannot think of Maine without thinking Andrew Wyeth. Andrew did so much to help us understand his vision of Maine. I enjoyed seeing his paintings at the Farnsworth Art Museum in Rockland and the work of Frank W. Benson, two of my favorite painters.
I found the home that Wyeth used in Christina's World, shown with me in this blog post. I tried to take all of the sights into my artist soul, but it was overwhelming and inspiring.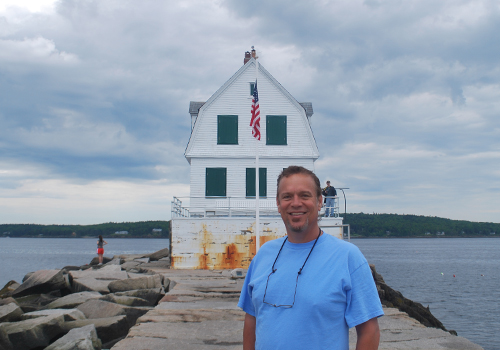 I am looking for a dedicated, very small group of serious painters to accompany me in either August or September of 2013 for a week of painting and exploring Maine. Please email me and let me know if you are interested in accompanying me to this event.

Information on Workshops & Locations
© 2012 Daryl Urig