See open paint #1, the beginning of this experience.
It was too hot for the model on our second evening, and unfortunately, I hadn't thought of that problem until tonight. But thanks to the ingenuity of a fellow artist, who suggested a fan and shortened pose increments, we were able to accommodate her nicely. Eventually, the night air cooled us, making the heat a non-issue for the artists and model.
This evening I tried something different with my painting. I read in a book recently that when you return to a dried canvas, you can rub it with linseed oil to give it a wet look. I liked this technique, as covering a dried canvas with wet paint often bothers me.
I learned a lot this evening. By allowing the paint to suggest the form of my image, it helped my piece. I experimented with the simplified form of basic foliage. The burnt umber color I pushed with yellows, oranges, blues and Alizarin Crimson provided a nice color to the needed greens of the scene. The colors are more vibrant when painting outside.
By breaking the canvas up into small shapes, I added rhythm to the piece, and the direction of the rake handle placed the focus on the face of the woman tending her garden.
My final image's likeness to the model surprised me because I was working quickly and loosely. I've thoroughly enjoyed my experience of painting a model live outdoors in the garden, so we are lining up another model for next week.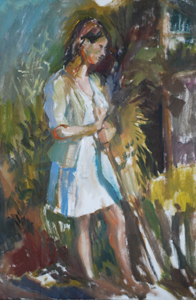 To view more paintings:
Recent work: http://www.darylurig.com/2010-paintings.aspx
Blog:  http://DarylUrig.com/blog
Website: http://DarylUrig.com
More on Daryl Urig:
Interview & Bio: http://www.darylurig.com/about-daryl-urig.aspx
Purchase:
Price: Contact: Robyn@DarylUrig.com
American Oil Painter Daryl Urig is a member of The Portrait Society of America, Oil Painters of America and Cincinnati Art Club. He has taught at the University of Cincinnati for over 8 years and is president of Total Media Source Inc.
View his Exhibit and Awards by clicking here.

Subscribe to Daryl Urig's "The Adventure of an American Oil Painter" Blog by Email