I recently found a model in the most unlikely place: our bank. She had perfect features for painting, similar to those you see in Baroque Art. Even greater, she was a still model whom everyone enjoyed painting.
During my first session, I painted her in the shadow, quite similar to a Jeremy Lipking piece. For this painting, I allowed my emotional senses to guide me. I was quite pleased with the composition after our 3-hour painting session and critique, even though my piece did not have a completed background.
Luckily, I took pictures of the model in the same position in which I painted her during our first session. The next evening, I printed the images on a 8 ½ x 11 inch sheet and took them to the garden location, set up my paints and worked on the background of the piece. Going back and forth between the photographs and the garden, I painted as much of the background as I could within 3 hours.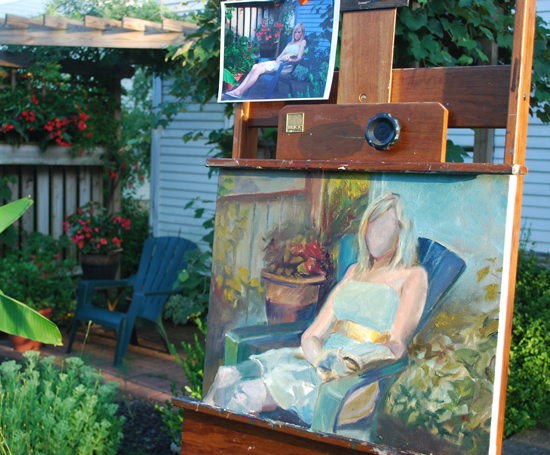 During my second session, I struggled to complete the background. In my work, I had never been forced to choose between the real landscape and a photograph. Thus, it took me much longer to complete this piece. One thing I learned from the photo was that I hadn't added enough medium tone to the heart of the painting. Adding this tone (being mindful to not destroy the piece's coloration) unified the piece.
Overall, I'm learning from the other painters in my group. They've pushed and encouraged me. I would suggest that other artists form their own groups to paint.
More on Daryl Urig:
Interview & Bio: http://www.darylurig.com/about-daryl-urig.aspx
Purchase:
Store: http://www.darylurig.com/store.html
Price: Contact: Robyn@DarylUrig.com
American Oil Painter Daryl Urig is a member of The Portrait Society of America, Oil Painters of America and Cincinnati Art Club. He has taught at the University of Cincinnati for over 8 years and is president of Total Media Source Inc.
View his Exhibit and Awards by clicking here.

Subscribe to Daryl Urig's "The Adventure of an American Oil Painter" Blog by Email